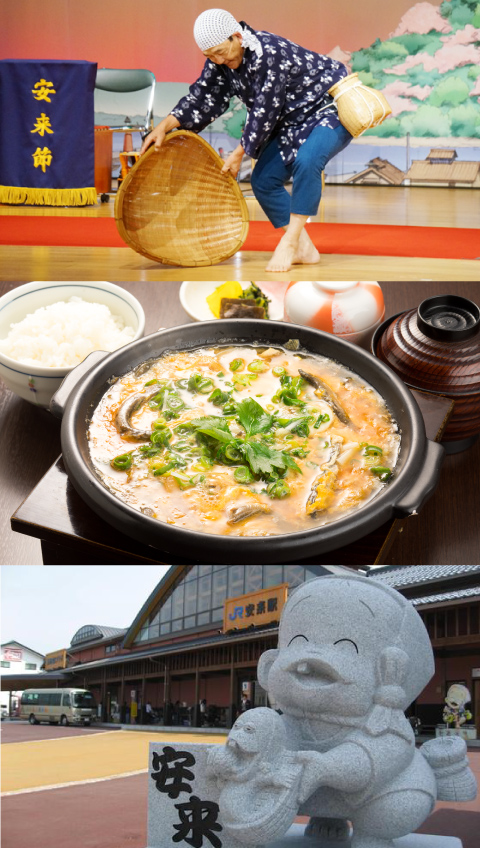 Yasugibushi and Loach Town
The folk song "Yasugibushi" is a fun anthem to sing along with the chorus of "Ara, e-sassa-sa.
The sound of the drums and shamisen, the unique way of playing the verses, and the
The light, nostalgic rhythm is pleasant to the ear.
It seems to remind us of the original landscape of good old Japan.
The "Dojo Sukui," a humorous dance with a bean dipstick on, is
The viewer can't help but smile.
The history and charm of Yasugibushi, the traditional culture that Yasugi City is proud of, are introduced here.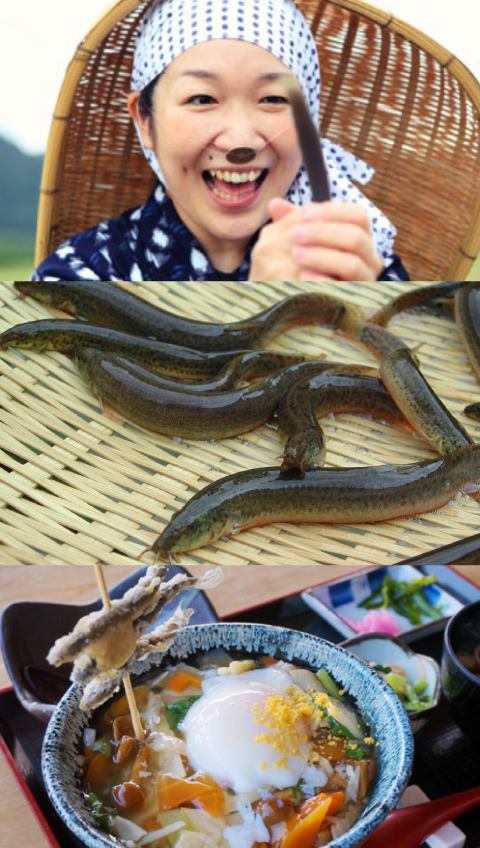 History of Yasugibushi
The beginning of Yasugi-bushi dates back to the middle of the Edo period. During the peaceful era of peace, songs and dance music became popular among the people in the city of Yasugi. It is said that the lyrics were sung in the seven-seven-seven-five syllable from around this time, and it seems to have become the prototype of the current Yasugi-bushi.
In the late Edo period (Tempo era), Yasugi Port prospered as a shipping port for rice and iron, and exchanges by ships, such as Kitamae-bune (Kitamae-ship), became more active. Folk songs were exchanged among boatmen from different countries, and it is said that Yasugibushi was influenced by the folk songs of those countries and gradually took on a form similar to today's Yasugibushi.
At the end of the Meiji era, the virtuoso of singing "Oito Watanabe" became popular, and when he formed a troupe with Tokunosuke Tomita, a shamisen player, and toured the country, he was very popular wherever he went. Yasugi-bushi established a golden age and is still sung as one of Japan's leading folk songs.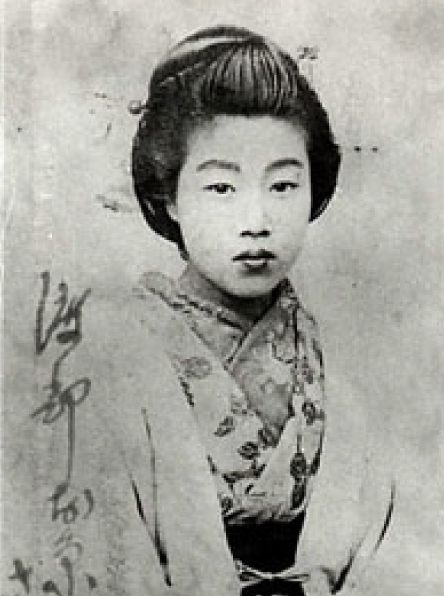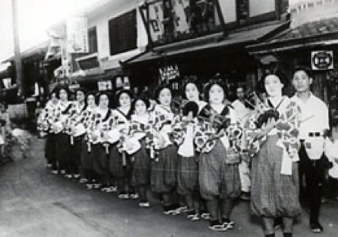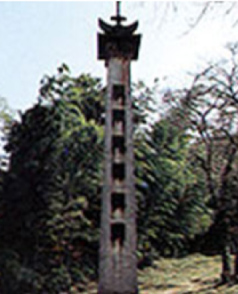 Yasugibushi Song and Dance
Yasugi-bushi has many lyrics, all of which are sung with a humanistic flavor and include the scenic beauty of Yasugi and its specialties. The "Dojo-sukui Odori" and "Zeni-Daiko" dance to the accompaniment of the songs, adding color to the stage and making the performance even more enjoyable for the audience.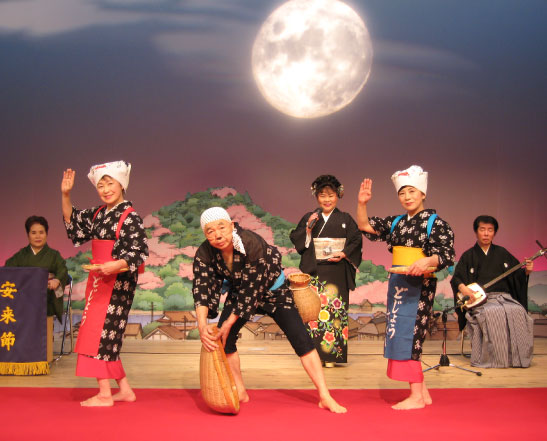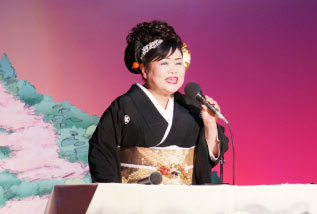 festival game in which participants try to catch loach in a river by scooping loach from the top of a river
There are two types of Dojosukui Odori (loach scooping dance), which expresses the scene of scooping up loach in a stream: "Otoko Odori (men's dance)" and "Onna Odori (women's dance).
male dance performance

On his head is a tenugui hand towel with a bean-paste towel and a penny on his nose. This well-known performance is the male dance of loach scooping. Just watching this humorous pantomime of scooping up loach will make you happy.

dance where a woman dances with a man (esp. a man who is popular with women)

The dancers dance in pairs, wearing a tenugui towel and holding a small colander in their hands. While the men's dance is performed in pantomime, the women's dance is performed in "dance" to express the scooping of loach. It is characterized by elegant and graceful choreography.
Zeni-Daiko
Zen-daiko is a type of folk performing instrument that has been handed down from generation to generation in the Izumo region.
The bamboo tube has coins attached to it in a crisscross pattern, and when shaken to the accompaniment of Yasugibushi songs, they make a "clang-clang" sound, adding a light rhythm to the performance. The performer's masterful handling of the Zeni-Daiko is a sight to behold.
Yasugibushi Preservation Society WEB site

Anecdote about Yasugi
utterly lacking in moral fiber (logic)
Born in a barroom?
In the old days, young people in Yasugi used to enjoy drinking with loach caught in a nearby creek. When they got drunk, they would imitate the way the loach was scooped up, and everyone enjoyed it. One peasant named Yusuke Takeuchi was said to have been a favorite at drinking parties because he danced this dance in a funny way, and this dance matched the Yasugibushi perfectly and gradually spread.

There are various theories as to the origin of "dojosukui," and some say that it was the act of scooping iron sand with soil (dojo).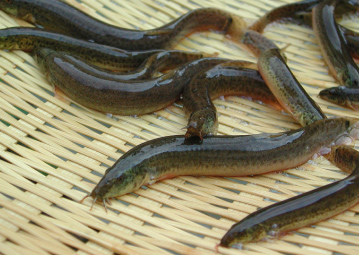 Let's see Yasugibushi!
Let's experience it!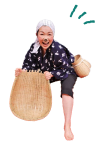 Yasugi-bushi Engeikan
The temple of Yasugi-bushi, where Yasugi-bushi is performed every day. You can enjoy the authentic Yasugibushi up close from the viewing seats that look like sajiki seats. For each performance, up to 5 people from among those who entered can also participate in the "loach scooping experience". There is also a restaurant serving the famous loach dish and a souvenir shop in the building.
For more information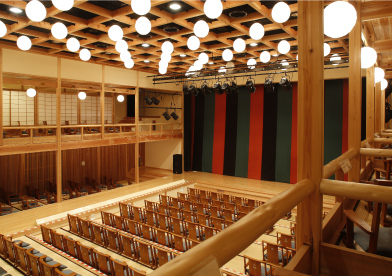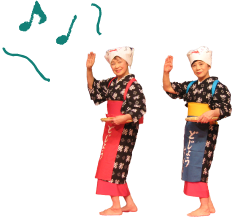 Yasugi-bushi store
We sell goods related to Yasugibushi and loach scooping, including the Yasugibushi experience dojo. At the experience dojo, you will be taught by a veteran instructor with over 30 years of experience, so why not take this opportunity to master the Dojo Sukui dance. (Reservation required for the experience)
For more information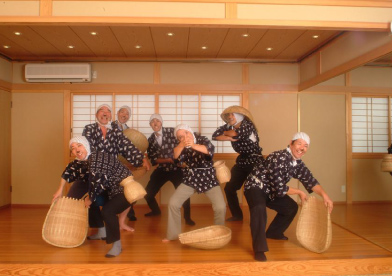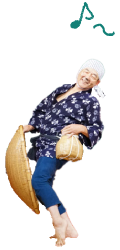 Yasugi's specialty: loach dishes
As is well known in the loach scooping dance, loach has long been familiar to the citizens of Yasugi. Although it is a fish that rarely appears on the dinner table, it is actually rich in nutrients. As the saying goes, "One loach is as good as one eel," and one small loach is as good as one eel. Calcium is said to be nine times higher. It is also rich in vitamins and minerals, and has outstanding beauty benefits. It is also a great food for women.
Yasugi City has a thriving loach aquaculture industry, and "cultivation in rice paddies," which is closer to natural loach, is practiced. The loach are grown in the sun, so they do not have a bitter taste or odor, and are characterized by their soft texture.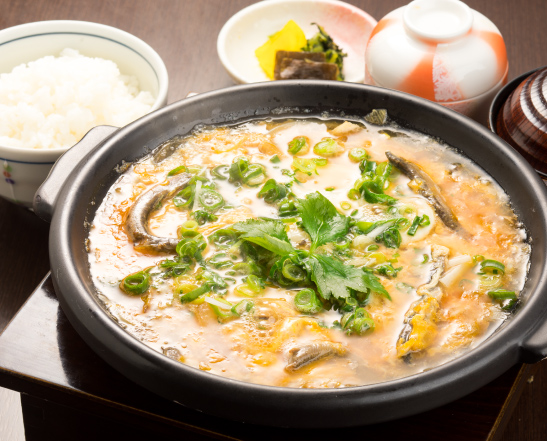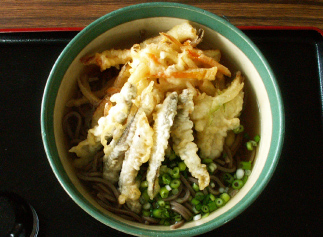 Stores where you can eat loach