Yasugi Rent-a-Cycle(Cycling Station)

Feel the nature of Yasugi on a bicycle,
and it's exhilarating to run through the vast fields with the wind!
There are still more wonderful shops and scenery that you can't meet by car in Yasugi City.
To find such a place, why not take a short trip to the historic town of Yasugi by bicycle?
Please find your own favorite points that can only be discovered by bicycle.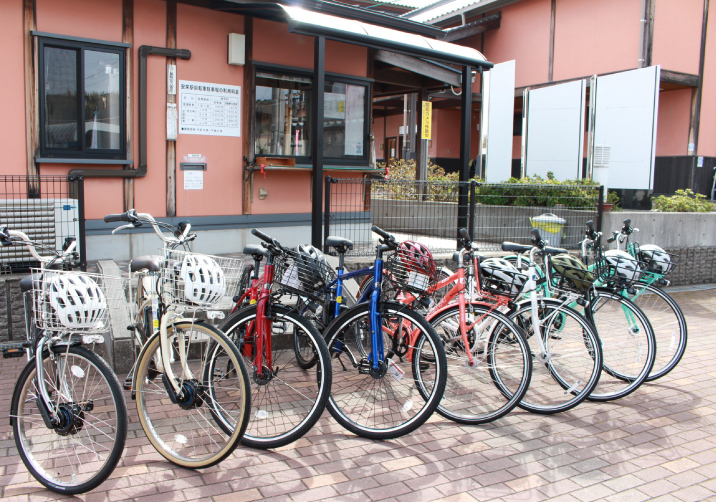 Convenient bicycle rental service
for sightseeing and business
We rent bicycles.
For sightseeing, for business...let's go out by bicycle!
Information
Rental place
Yasugi Rent-a-Cycle Reception (Yasugi Station Bicycle Parking Lot)
Rental time
●April-August 8:30-18:00
September-March 8:30-17:00
Amount including tax
●Ordinary bicycle
500 yen(Within 4 hours / 100 yen per hour thereafter)
●Electric Bike
1000 yen(Within 4 hours / 200 yen per hour thereafter)
Type and
number of bicycles
●Ordinary bicycle(with front basket)
City Bike 2 bicycles
Road Bike 4 bicycles
●Electric Bike(with front basket)
City Bike 2 bicycles
Road Bike 4 bicycles
Holiday
December 31st and January 1st
Contact
Yasugi City Tourism Association TEL:0854-23-7667
Notes
●In case of breakdown or damage, repair costs may be charged.
●In the event of an accident, puncture, breakdown, or other trouble, please contact us immediately.
●The Yasugi City Tourism Association does not take any responsibility for damages caused by third parties encountered during use.
Remarks
There are bicycle tools and bicycle stands for road bikes at Yasugi Station and the Hirose traditional resist-dyed textiles factory.
Cycling Map
This is the "Yasugi Cycling Road Map", which lists recommended routes that you can easily go out by bicycle.