Tourism Exchange Plaza
Araessa♪ YASUGI

Creating "Meeting, Gathering, and Resting
Yasugi City's base for information dissemination
Located at the entrance to Yasugi City adjacent to Yasugi Station, it provides tourist information, sells local products, and offers a wide range of services.
It is a facility that combines the functions of civic exchange, such as a gallery.
The stairwell with visible beams made of local timber is full of a sense of openness.
Tourist information on the city and the Izumo region can be obtained here.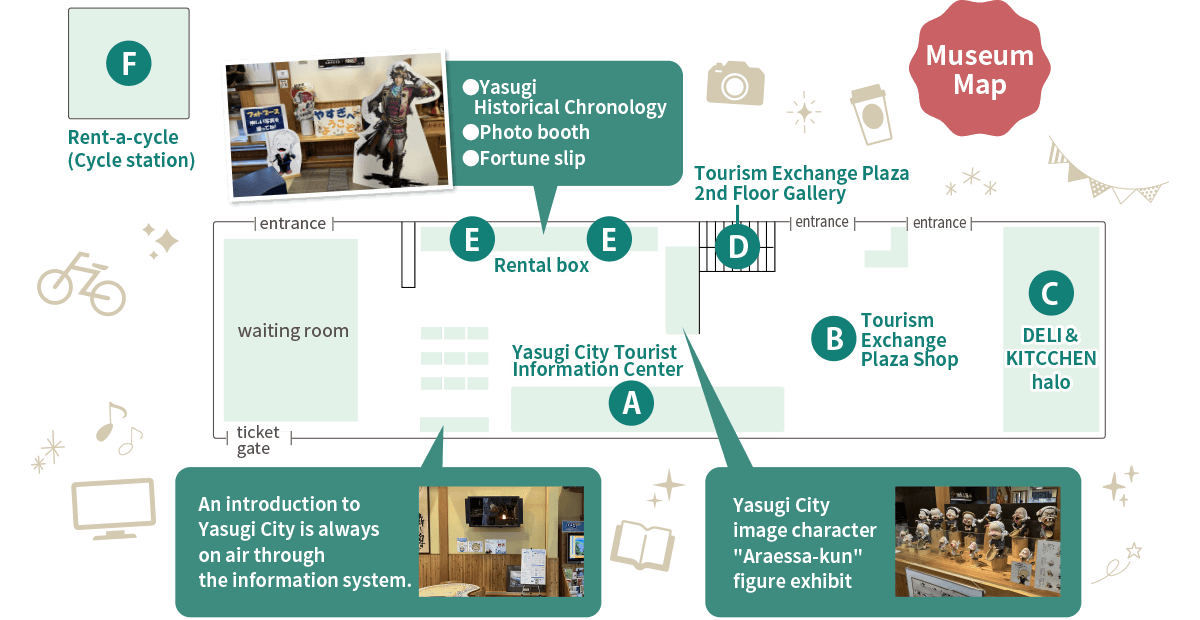 Museum Introduction
A

Yasugi City Tourist Information Center

We have maps and pamphlets of tourist attractions in the city and can provide seasonal tourist information and word-of-mouth information unique to locals. Please feel free to contact us.

business hours

8:30-17:00

Regular holiday

December 31 and January 1

handling

Selling commuter passes, coupon tickets, and various tickets for the Yellow Bus.

B

Tourism Exchange Plaza Shop

We have a variety of local products and souvenirs from the city. Some items are sold only here. Please visit us as a souvenir of your sightseeing or at the end of your trip.

business hours

8:30-18:00

Regular holiday

December 31 and January 1

Under the motto of "local production for local consumption," we serve dishes that use plenty of fresh local vegetables.
Light meals and sweets are also available for take-out.

business hours

9:00-17:00(L.O.16:30)

Regular holiday

1st and 2nd Sunday and every Monday

D

Tourism Exchange Plaza

2nd Floor Gallery

Exhibitions of works and projects by artists active in the city or with ties to Yasugi are held on a regular basis. In addition to being a place to present hobbies, circle activities, and exhibit artwork, it can also be used for meetings and conferences.

rent

Non-profit 220 yen per hour
Commercial purposes 2,200 yen per hour

items for loan

Sound, projector (charged), chairs, desks, etc.

Regular holiday

December 31 and January 1

The 45cm square rental box for rent showcases the city's attractions. Use it to display your handmade artwork, advertise, or announce your events. The box is lockable, so there is no need to worry about theft, and it is also available for sale.

rent

30 yen per day (20 yen for students)

Term of Use

More than 1 week and less than 2 months
(If the period exceeds 2 months, a new application will be required)

Regular holiday

December 31 and January 1

f

rent-a-cycle

(Cycle station)

Bicycles are available for rent.
Electric bicycles and regular bicycles are available.
For sightseeing, business… why not take a little trip there by bicycle?

lending hours

April-August 8:30-18:00
September – March 8:30 – 17:00)

regular closing day

December 31 and January 1